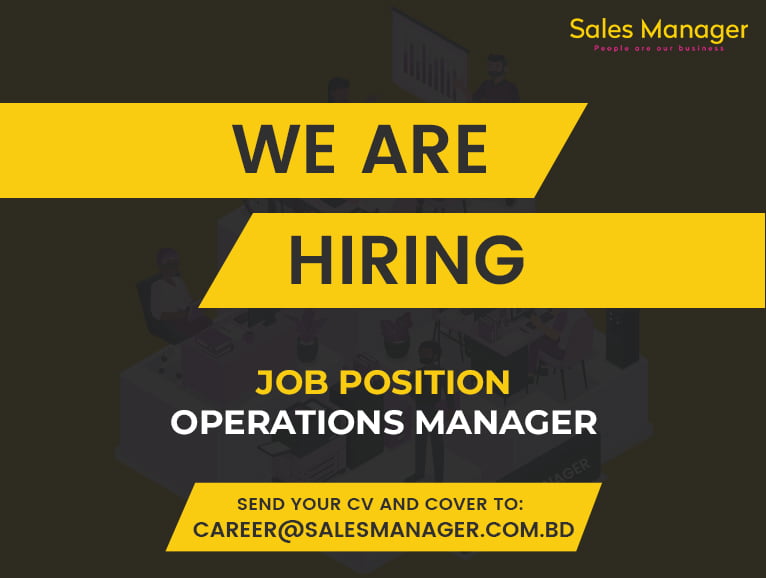 Operations Manager – International BPO
Sales Manager PVT LTD is a subsidiary of Cyanergy Group Australia is seeking a motivated and experienced individual to become its Operations Manager. This role is based in Panthapath Dhaka, and the successful candidate will be responsible for managing day-to-day business operations.
The ideal candidate must have excellent leadership skills, great communication abilities, the ability to think strategically and the ability to quickly problem solve. They will be required to manage a diverse range of tasks and have strong organizational skills with the capacity to prioritize. You must demonstrate recent experience of managing 100 plus people in an international or domestic BPO setup.
The successful applicant must also be able to work collaboratively with other departments and staff and possess a sound knowledge of business operations and procedures. A bachelor's degree in human resource management or business-related field is essential.
You must be flexible to start early mornings according to Melbourne/Sydney time and must have own transport.
We offer a competitive salary, generous benefits package and an opportunity to be part of a fast-growing company. If you are interested in this role and have the necessary skills to succeed, please apply now. We look forward to receiving your application!
Must be able to demonstrate advance English's skill in Reading, Writing, Listening and Speaking.
Salary: Negotiable (Based on Experience)
Email Subject: Applying as Operation Manager
Email us at: career@salesmanager.com.bd

BANGLADESH
OFFICE ADDRESS
152/3B – 11th Floor – Firoz Tower, Bir Uttam Kazi Nuruzzaman Road, Panthapath, 1205 Dhaka
Bangladesh
P: +88-01312452322
E: career@salesmanager.com.bd